The NextGen Cassava project's initial focus was improving cassava using genomic prediction, a method that uses statistical models to gauge the performance of a plant based on its genome. In the project's first phase (2012-2018, funded by the Gates Foundation and UK aid), the project worked successfully to shorten breeding cycles, improve data collection and management, increase germplasm exchange, improve physical infrastructures of programs, and increase the number and capacity of cassava breeders in partner African breeding programs.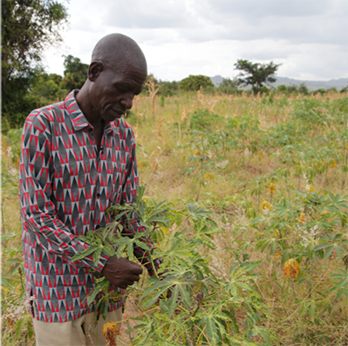 The current phase of the project aims to build on these successes by focusing on the effective implementation and delivery of improved cassava varieties to smallholder farmers.
NextGen Cassava's Phase 2 goals are to:
Expand resources for applied breeding to obtain higher quality data and maximize the ability to improve varieties.
Initiate greater communication to multiple audiences, from smallholder farmers, to other African breeding programs, to other cassava research centers.
Consolidate research efforts to directly serve breeders and ensure quality control at all process steps.
Identify traits preferred by farmers and end-users, to ensure that breeding is demand-driven and inclusive.
Release improved cassava varieties in each breeding program's region that meet criteria for quality acceptability and sustainably improve smallholder farmer livelihoods due to improved yield and disease resistance.
Our vision is that these steps will accelerate not only genetic gain, but adopted genetic gain. By increasing the capacity of African cassava breeding programs, cassava varieties with increased yield, disease resistance, and other preferred traits can be delivered directly into the hands of smallholder farmers.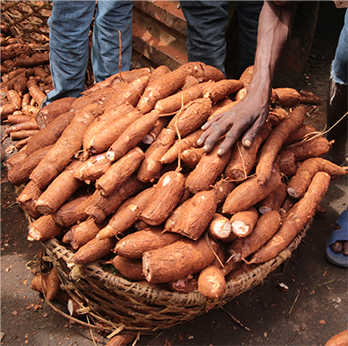 Cassava (Manihot esculenta), a major staple crop, is the main source of calories for 500 million people across the globe. A perennial woody shrub native to Latin America, cassava is primarily grown as an annual crop in the humid tropics. A cash crop as well as a subsistence crop, cassava's large edible starchy roots are a source of low-cost carbohydrates for millions. Cassava end products range from fresh roots cooked, boiled, baked or fried at the household level, to highly processed starch as a food additive.
Characteristics such as low input requirements, resistance to drought, ability to grow in marginal soils and long-term storability of the roots in the ground, make cassava a truly resilient crop for food security. Studies indicate cassava stands to be the only staple crop that stands to benefit from climate change. As more land is rendered unusable due to changing temperature and rainfall patterns, cassava looks to gain importance as a staple around the globe
Cassava is important for food security in Africa
No other continent depends on cassava to feed as many people as does Africa, where 500 million people consume it daily. Africa's small farmers produce more than half of the world's cassava, or about 86 million tons from over 10 million hectares. On the continent, where 40% of the population consumes cassava as a staple crop, cassava is the second most important staple crop after maize. Cassava is indispensable to food security in Africa. It is a widely preferred and consumed staple, as well as a hardy crop that can be stored in the ground as a fall-back source of food that can save lives in times of famine.
Despite the importance of cassava for food security on the African continent, it has received relatively little research and development attention compared to other staples such as wheat, rice and maize. The key to unlocking the full potential of cassava lies largely in bringing cassava breeding into the 21st century.